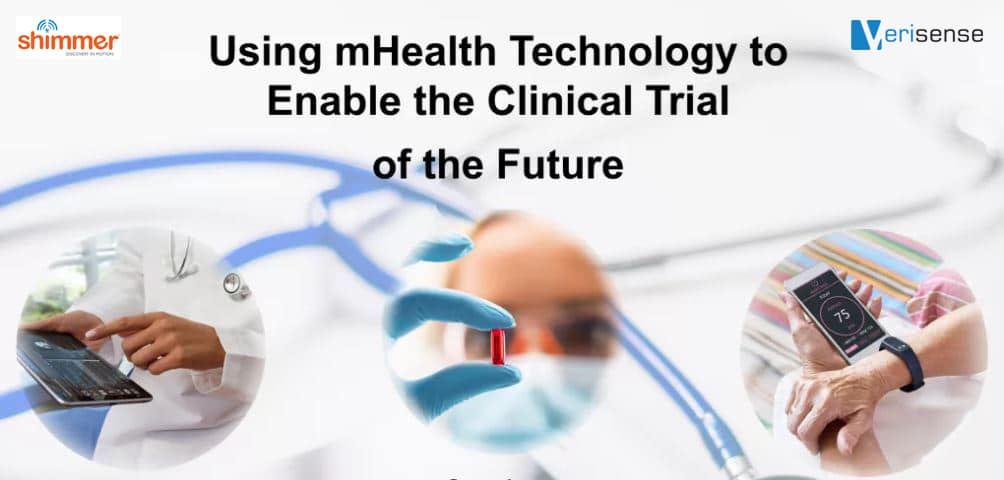 CAMBRIDGE, MA – May 18, 2019 – Shimmer, a global leader in wearable technology for research applications, today announced that Geoff Gill, president of Shimmer Americas, will be presenting at the Body Sensor Networks (BSN) '19 pre-conference workshop entitled, "Using mHealth Technology to Enable the Clinical Trial of the Future." This workshop will be held on May 19 at the University of Illinois at Chicago in Chicago, Illinios.
"With the rapidly growing adoption of mHealth technologies in clinical trials, which is actively encouraged by the US Food and Drug Administration (FDA), we felt it was both timely and important to develop an educational forum where our peers from academia and industry can share their experiences, technological advances, and best practices from the field," said the workshop's co-host Dr. Paolo Bonato, director of the Motion Analysis Laboratory at Spaulding Rehabilitation Hospital in Boston. Dr. Bonato is also an associate professor in the Department of Physical Medicine and Rehabilitation at Harvard Medical School, and an associate faculty member at the Wyss Institute for Biologically Inspired Engineering, Harvard University.
In December 2018, former FDA Commissioner Dr. Scott Gottlieb stated that leveraging real-world evidence (RWE) to improve regulatory decisions was a key strategic priority for the Agency. The FDA has also introduced a strategic framework to advance the use of RWE to support the development of drugs and biologics.
"I am delighted to have this opportunity to share our experience garnered from developing the Verisense™ wearable sensor platform from the ground up specifically to meet the needs of clinical trials," said Mr. Gill. "While Shimmer has been developing wearable sensors for more than 10 years, we invested significant time and effort in listening to and understanding the needs of clinical trial sponsors, sites and participants to ensure that when we introduced Verisense earlier this year it would successfully expedite the clinical trial process by putting minimum burden on those three parties. For example, the Verisense battery lasts for up to six months, and our sensors can be worn in the shower or bath, definite pluses for elderly or frail patients participating in a clinical trial who don't want anything else to remember or worry about."
Mr. Gill will present during the 8:30-10:30 a.m. ET session entitled "The Adoption of mHealth Technologies in Clinical Trials." He will discuss the benefits of including wearable sensors in clinical trials, obstacles that still need to be overcome, and steps that the industry as a whole should take to accelerate adoption of these devices.

Further information about this workshop can be found at https://www.bhi-bsn-2019.org/workshops.
About Shimmer
Founded based on Intel technology in 2006, Shimmer is a well-established wearable technologies services and sensor manufacturing company based in Dublin, Ireland. In addition to standard products, Shimmer provides customized sensor development services, volume manufacturing, and complete wearable sensor solutions of any complexity. Shimmer's technology and services have been employed by thousands of researchers at more than 900 leading companies, universities, and research institutes in more than 75 countries. Shimmer's technology is incorporated in the products and services of more than 20 original equipment manufacturers. Shimmer has an ISO 13485:2016 certified medical devices quality management system. For more information, visit www.shimmersensing.com, www.linkedin.com/company/shimmer or follow @ShimmerSensing.

Shimmer Contact
Geoff Gill, (617) 945-2628
President, Shimmer Americas
[email protected]

Media Contact
Lisa Osborne, (206) 992-5245
Rana Healthcare Solutions
[email protected]