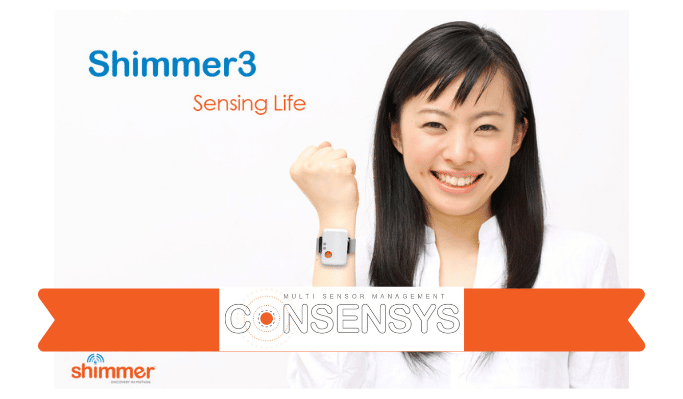 Shimmer are delighted to announce the launch of our newest software update. Our Consensys software that you know and love has been updated yet again, to add new features and benefits, and improve the overall user experience.
Along with various bug fixes, we have added GSR calibration improvement, gyroscope-on-the-fly calibration algorithm, support for the 200g accelerometer, and it is now also available in either 32bit or 64bit mode.
The same features you currently love are still available, such as:
1. Recording and plotting data from multiple Shimmers
2. Event markers
3. Data annotations
4. Algorithms – 6 DoF to Quaternion, 9DoF to Quaternion, ECG-to-HR and PPG-to-HR
5. Inter-beat interval for ECG and PPG
6. Activity level reports for Kinematic data
7. EMG Band-pass filtering
Consensys is available in two packages and integrates a range of different applications into a single graphical software application package.
ConsensysBASIC is the free version of our software and is available to download from http://www.shimmersensing.com/products/consensys. This was designed to be used with a single Shimmer sensor. It allows users to download SD card data, review IMU calibration parameters, configure a single Shimmer sensor, programme the firmware on a single Shimmer sensor, record and visualise the data on a single shimmer. Designed for users who require less advanced features and capabilities, ConsensysBASIC incorporates the most essential functions of the Consensys software.
ConsensysPRO is available to streamline the management of all your Shimmer3 sensors. Designed to be used in conjunction with the Consensys Base6, Consensys Base15 or Shimmer Dock, the system allows users to easily program, configure and capture data from numerous Shimmer sensors simultaneously, to simplify the setup of trials and storage of recorded data.
ConsensysPRO is easily configurable for repeatable trials; the software adapts configuration options to display only the appropriate settings for the connected hardware available and remembers the users' configuration parameters even after reprogramming the firmware, thus enabling both technical and non-technical users to easily manage data collection.
Want to try the software for free? We offer a free 5-day trial for all. Simply download from our website here: https://www.shimmersensing.com/products/consensys
This will allow you to access all of the new and existing features that ConsensysPRO has to offer, to evaluate if this software fits your needs. After the trial has expired, you will have the option to purchase a yearly license for the software.
Currently a ConsensysPRO customer? Simply log into your current version of ConsensysPRO and upgrade when prompted to have full access to v1.6.0.
Want to learn more about Shimmer's wide range of wearable sensors, from academic use-cases to clinical research? Please see our website: https://www.shimmersensing.com or email [email protected] for more information.