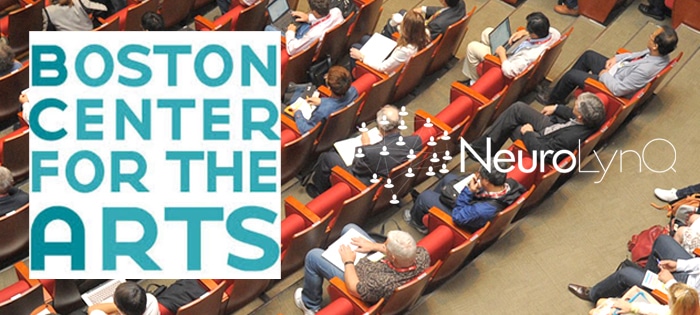 Boston, MA (February 28, 2019) – Boston Center for the Arts (BCA) Music Ensemble in Residence, Palaver Strings, is pleased to announce a partnership with Shimmer – a global leader in wearable technology – for their upcoming performance of Lifesongs on Friday, March 8 at 7 pm in BCA's Black Box Theatre. This experiment will study a group of audience members' emotional response to Lifesongs – a songwriting collaboration between Palaver musicians and LGBTQ elders from the local community, who create original songs based on their lived experiences.
"BCA is always seeking ways to connect the technology industry with the arts," said Gregory Ruffer BCA's President & CEO. "This partnership between our music resident, Palaver Strings and Shimmer – a pioneer in the wearable technology industry, can further explore how technology and the arts can enhance and interlink with one another," says Gregory Ruffer – BCA's President & CEO.
Palaver Strings will recruit up to 45 volunteers from the audience, across a broad range of demographics, to partake in this study with Shimmer. The Lifesongs audience volunteers will be monitored by Shimmer's NeuroLynQ system, which will provide a moment-by-moment real-time assessment of their emotional response while watching the performance.
As Geoffrey Gill, President of Shimmer, explains, "We are excited to work with BCA and Palaver Strings, and use our technology to analyze how different people respond to performance art. We are proud to be associated with such innovative artistic organizations as the BCA and Palaver Strings. We hope the results provide new insight for them to utilize for future creations and performances."
The NeuroLynQ system works by measuring the activation of sweat glands on the palm (known as Galvanic Skin Response or GSR). GSR has been used for years as a measure of psychological arousal (indicating interest, excitement, relevance, stress, etc.) in everything from polygraph tests to market research. The NeuroLynQ system is unique in the fact that it can analyze up to 45 people in real time and provide easy to understand aggregate metrics.
"Palaver is always interested in new innovative ways to better engage with audience members", said Matthew Smith – Cellist and Managing Director of Education with Palaver. "Partnering with Shimmer in Lifesongs will give us a glimpse into what our audiences are feeling, further informing our artistic programming."
As part of a yearlong residency at BCA, Palaver Strings shares a program inspired by the stories of lived experiences from the LGBTQ community providing a larger platform to these powerful stories of love, loss, courage, and affirmation. In addition to new songs written by this year's Lifesongs participants, the program will feature Samuel Barber's iconic Adagio for Strings, a new commission by Akenya Seymour, and performances by members of the Boston Gay Men's Chorus.
There will be three performances of Lifesongs in BCA's Black Box Theatre on Friday, March 8 at 2 pm and 7 pm, and Saturday, March 9 at 7 pm. Tickets are available here: www.bostontheatrescene.com/season/lifesongs
About Boston Center for the Arts
Boston Center for the Arts is a nexus of the arts in Boston, fostering the development of contemporary visual and performing arts and convening artists and audiences to create, explore and celebrate all creative disciplines. An integral part of the cultural fabric of the city of Boston, Boston Center for the Arts utilizes its historic campus in the vibrant South End to present world-class exhibitions and performances, provide affordable workspace, engage cultural consumers throughout the region, and nurture artists with the resources to take risks and develop new artworks. For more information, please visit www.bcaonline.org.
About Palaver Strings:
Palaver Strings is a musician-led string ensemble and nonprofit, founded by young musicians who share a passion for collaborative music-making, education, and community engagement. Since its opening season in 2014, Palaver has performed at the Kennedy Center and at a celebration of the Lullaby Project at Carnegie Hall and has enjoyed residencies at the Boston Center for the Arts and Bay Chamber Concerts in Rockport, ME. With the support of local partner organizations, Palaver plans to open a community music school in Portland, ME in fall 2019. To learn more, visit www.palaverstrings.org.
About Shimmer
Shimmer is a leading wearable technologies company based in Dublin, Ireland and focuses on Research, Neuromarketing, and Clinical Trials applications. Today, Shimmer has thousands of research customers in over 80 countries. Shimmer's technology is incorporated in the products and services of more than 20 original equipment manufacturers. Shimmer has an ISO 13485:2016 certified medical devices quality management system. For more information, visit www.shimmersensing.com, www.linkedin.com/company/shimmer or follow @ShimmerSensing.