CAMBRIDGE, MA – Mar. 11, 2019 – Shimmer, a global leader in wearable technology for research applications, announced that Paolo Bonato, PhD, director of the Motion Analysis Laboratory at Spaulding Rehabilitation Hospital in Boston, has signed a letter of intent to employ Shimmer's Verisense continuous monitoring platform during his next clinical trial to study motor recovery in stroke survivors.
The signing took place earlier today in the presence of Ireland's Minister for Communications, Climate Action and Environment, Richard Bruton T.D. at Enterprise Ireland's annual St. Patrick's Day Global Ireland Lunch. The event was held at the MIT Samberg Conference Center in Cambridge, MA.
Shimmer's Verisense wearable sensor platform was designed from the ground up to reliably capture accurate and complete biometric data, while placing minimum burden on clinical trial sponsors, sites and participants.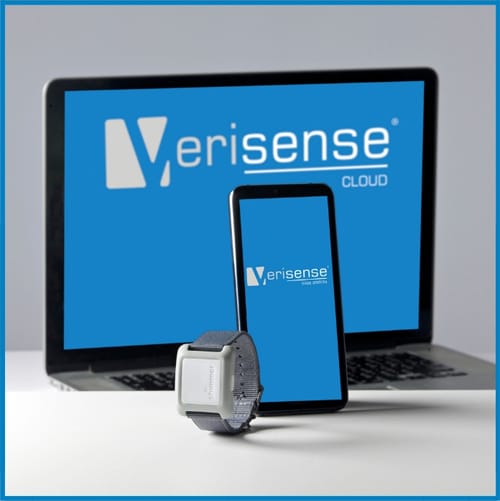 "We are excited to be able to use Shimmer's new Verisense platform for our stroke study," said Dr. Bonato. "The platform's ability to monitor multiple sensors on a participant's body simultaneously was crucial for this study. With Verisense, we will gain access to all the raw participant data and built-in algorithms will deliver validated metrics. Verisense sensors have a six-month battery life and can even be worn in the shower or bath, which will undoubtedly improve patient compliance and data quality. Furthermore, its monitoring dashboard will give us an overview of all the sensors in the study, while also allowing us to drill down to individual devices." 
"I would like to express my deep gratitude to Enterprise Ireland for their support of Shimmer's Verisense platform for clinical trials, which goes well beyond facilitating this signing today. Their financial support of our development effort was integral to our ability to bring this product to market so quickly," said Geoff Gill, president of Shimmer Americas.
Dr. Bonato is also an associate professor in the Department of Physical Medicine and Rehabilitation at Harvard Medical School, and an associate faculty member at the Wyss Institute for Biologically Inspired Engineering, Harvard University.
About Enterprise Ireland
Enterprise Ireland is the Irish government agency responsible for the development and growth of Irish companies internationally in order to grow exports and jobs. Enterprise Ireland works with entrepreneurs and businesses to help them to start-up, develop innovative products and services, and scale internationally. Enterprise Ireland facilitates access to international markets through its international office network, supports business strategy and management capability training and provides finance, investment and research expertise. For more information, go to www.enterprise-ireland.com.
About Shimmer
Founded based on Intel technology in 2006, Shimmer is a well-established wearable technologies services and sensor manufacturing company based in Dublin, Ireland. In addition to standard products, Shimmer provides customized sensor development services, volume manufacturing, and complete wearable sensor solutions of any complexity. Shimmer's technology and services have been employed by thousands of researchers at more than 900 leading companies, universities, and research institutes in more than 75 countries. Shimmer's technology is incorporated in the products and services of more than 20 original equipment manufacturers. Shimmer has an ISO 13485:2016 certified medical devices quality management system. For more information, visit www.shimmersensing.com, www.linkedin.com/company/shimmer or follow @ShimmerSensing.