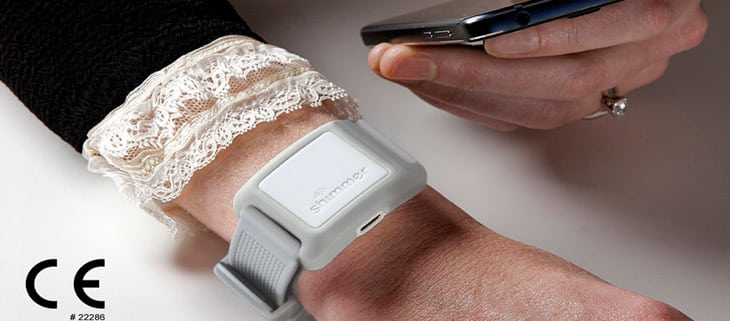 CAMBRIDGE, MA – Nov. 10, 2020 – Shimmer Research, a global leader in wearable technology for research applications, today announced that its Verisense™ Inertial Measurement Unit (IMU) sensor is now a CE certified, Class I medical device (#22286).
"Verisense IMU's CE registration as a medical device validates Shimmer's quality systems and its fitness for purpose for medical applications. We are delighted to have received this EU approval and are in the process of applying for registration with the US Food and Drug Administration (FDA) as well," said Geoffrey Gill, president of Shimmer Americas, and co-founder of the Open Wearables Initiative (OWEAR).
The Verisense IMU plays a central role in Shimmer's Verisense wearable sensing platform, which was developed from the ground up for use in clinical trials. Verisense addresses the needs of, and places minimum burden on, all clinical trial stakeholders – sponsors, clinical research organizations (CROs), site staff and participants.
For sponsors, Verisense captures continuous raw data for all the clinical trial metrics, ensuring that they have everything required for their regulatory submission package. It also delivers maximum data reliability and advanced trial management tools for easy use and increased data accessibility, transparency and security.
It takes only five minutes for a CRO to set up a new participant on the Verisense platform. The system provides status alerts to let them know if a sensor is being worn incorrectly, a base station is unplugged, or a sensor's power is running low. Plus, the sensor has up to 44 days of memory on board, allaying any concerns about lost data.
Clinical trial participants can put on their Verisense IMU and forget about it. The device can be worn in the shower, its battery lasts for up to six months, and all the data it collects is uploaded daily to a secure cloud-based server, and encrypted, without any action required on their part.
Market Potential
The global consumer wearables market has grown dramatically during the past decade, reaching more than $10 billion in annual revenue by some estimates. But the COVID-19 crisis has significantly increased interest in, and adoption of, medical wearables.
"We believe that the medical wearables market will ultimately dwarf the consumer market, but it will be composed of many specific niches," said Martina Donohue, marketing manager at Shimmer Sensing. "Medical products, such as the Verisense IMU, require a much higher level of specificity and accuracy than their consumer counterparts and a management system tailored to the specific use case. As a result, there will not be a one-size-fits-all medical mass market solution and the price points will be much higher."
Industry Presentations
As interest in medical wearables grows rapidly, the Shimmer team is responding to an increasing number of speaking engagements.
Mr. Gill is participating in MAGI's Clinical Research vConference later this week. He will be discussing Verisense developments and OWEAR's expanded vision during a panel discussion entitled "Medical Device Clinical Research: Hot Topics, Regulatory Updates & New Normals (Part 2)" from 2:30-5 p.m. ET on Nov. 12.
Founded in Sept. 2019, OWEAR is an industry collaboration to promote the effective use of high-quality, sensor-generated measures of health in clinical research. Its Working Group includes representatives from five of the largest pharma companies, a top clinical research organization, and several leading industry organizations.
Additional information about this MAGI conference is available at https://www.magiworld.org/Program?EVT=56.
The following week, Ms. Donohue will discuss the evolution of the medical wearables market and associated technology at the IEEE First International Workshop on Wearable Sensors and Devices, Artificial Intelligence and Wearable Markets. During her presentation, entitled "Wearable Technology Moving to Medical," Ms. Donohue will present several wearables applications and the actionable outputs that they provide for patients. This session will be held from 6-6:30 p.m. CET on Nov. 19.
More information about this IEEE workshop can be found at https://workshopsensors.weebly.com.
About Shimmer Research
Founded based on Intel technology in 2006, Shimmer Research is a well-established wearable technologies services and sensor manufacturing company based in Dublin, Ireland. In addition to standard products, Shimmer provides customized sensor development services, volume manufacturing, and complete wearable sensor solutions of any complexity. Shimmer's technology and services have been employed by thousands of researchers at more than 900 leading companies, universities, and research institutes in more than 75 countries. Shimmer's technology is incorporated in the products and services of more than 20 original equipment manufacturers. Shimmer has an ISO 13485:2016 certified medical devices quality management system. For more information, visit www.shimmersensing.com, https://www.linkedin.com/company/shimmer/ or follow @ShimmerSensing.

Shimmer Contact:
Geoffrey Gill, (617) 945-2628
President, Shimmer Americas
[email protected]

Media Contact:
Lisa Osborne, (206) 992-5245
Rana Healthcare Solutions
[email protected]