Shimmer is very pleased to have been a part of Science Gallery Dublin's most recent exhibition known as Risk Lab. The exhibition featured an exploration of Risk and Probability and took place from May 2nd to June 26th. The setting gave thousands of visitors a more in depth understanding of risk and the mathematics of chance –effectively Risk Lab offered a clearer explanation for the old adage 'the house always wins'.
During the period the Science Gallery was visited by a wide variety of personalities ages and backgrounds. This offered Shimmer an excellent opportunity to capture GSR (Galvanic Skin Response) data, which provided a large and diverse sample to study. The range of experiments conducted at the Risk Lab offered an excellent opportunity to capture GSR data, which was used to assess physiological reactions to risk such as nervousness, concentration, shock, and attitudes to risk. See some of the experiments involving Shimmer below: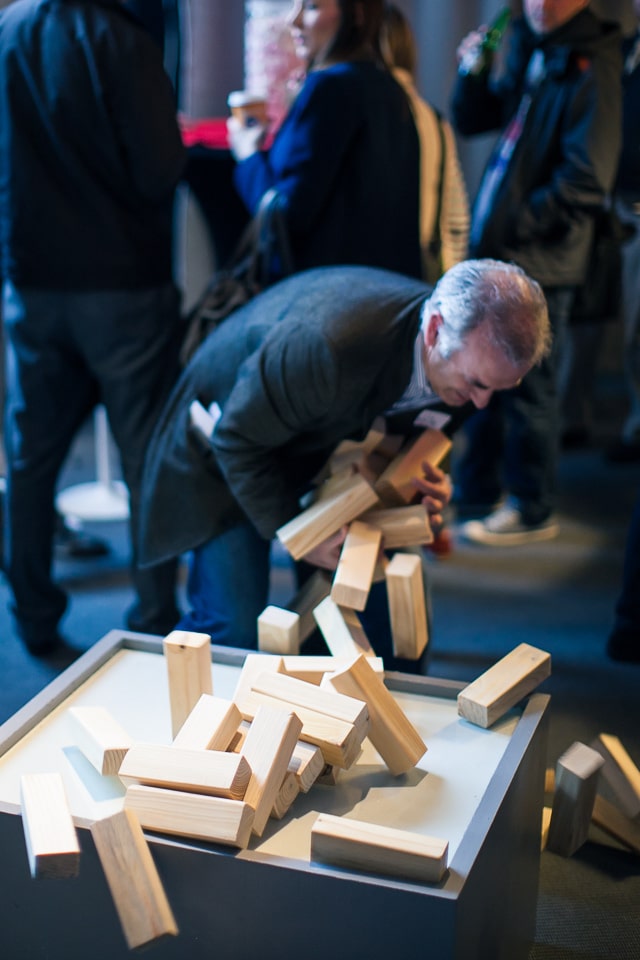 Falling Tower
Two players had their GSR and heart rate monitored while they played "Falling Tower", a game which involves players extracting wood blocks from the tower and strategically placing the block back on the top of the tower without making the tower fall.
Players had their measurements displayed on screen, showing them and observers how they reacted to nervousness, concentration and of course, a sudden reaction to the tower finally falling.
Scare Booth
Visitors were instructed to put their hand in one of three openings and waited in suspense, not knowing if they would get a "shock" or not. GSR was measured while they were waiting and when the shock actually happened, allowing people to see how their body reacted to the shock.
Poker
Michelle Brown ran a series of poker games using Shimmers. Initially the game involved 4 property developers and business people, they were monitored with Shimmer GSR sensors while they played poker and talked about life and their attitude to risky behavior, including financial risks, health risks and more. A display showing a chair balancing on a diving board indicated the GSR level of each player by how well it balanced or how close it was to toppling (this displayed participants attitude to risk).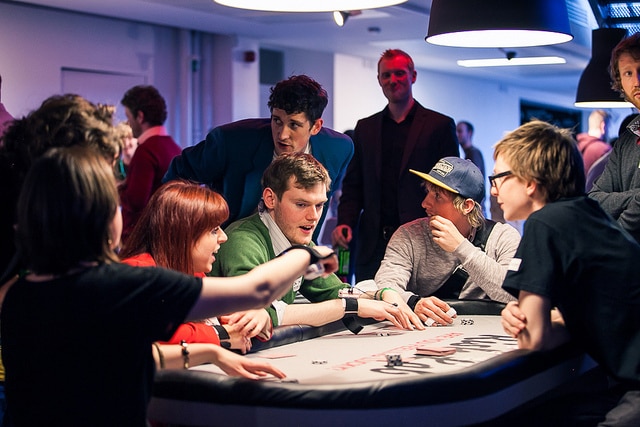 This same model was replicated and all visitors to the gallery and to Risk Lab could watch video playback of the games or take part themselves by playing poker. Their physiological reaction was also measured with Shimmer GSR and they could watch their own reaction, via the graphic of the chair on a diving board.
Another event that took place in conjunction with Risk Lab was a live recording of the Newstalk radio science show known as 'Futureproof'. This special feature involved the shows host Jonathan McCrea exploring his own genetic sequence and having the results revealed for the first time in front of a live studio audience. As part of the reveal, the presenter's physiological reaction was also being displayed live on screen using Shimmer wireless GSR sensors and real-time data transmission.
In the past, Shimmer has participated in various exhibitions and collaborations, which involved industry as well as the arts. In 2012 Shimmer collected the 'Business to Arts Award for Creating Innovative Partnerships' as part of Innovation Dublin. So this year when the opportunity to work with the Science Gallery on Risk Lab presented itself, Shimmer was pleased to be part of a diverse team who brought Risk Lab to general public.
Shimmer would like to thank the co-founders of this exhibition as well as the curators and hosts who made Risk Lab a roaring success. We would also like to thank the participants of each experiment and all of the visitors who made their way to the Science Gallery throughout the 8-week period.
For more information about any of the experiments or Shimmer and its involvement in the exhibition please contact us on [email protected].