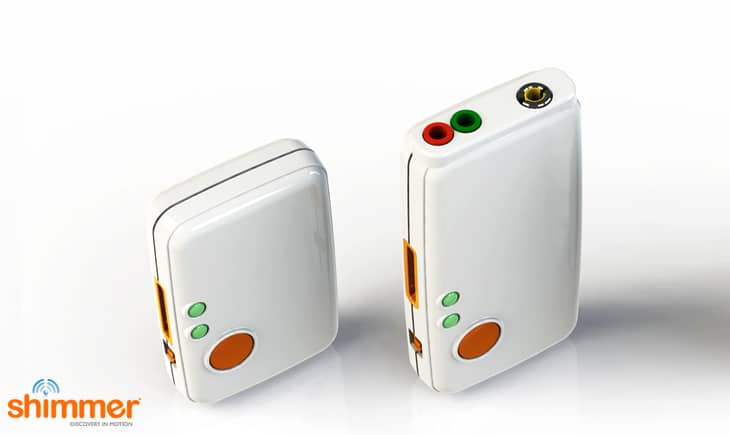 An assembled GSR/Optical Pulse Sensor stands alongside the Shimmer3 platform
Following on from the successful release of the all new Shimmer3 platform, the first of the Shimmer3 Biophysical expansion modules is scheduled to launch in January of 2014. From the turn of the New Year Shimmer users will be able to order and begin capturing Galvanic Skin Response (GSR) data from the new module, which is connected to the Shimmer3 platform.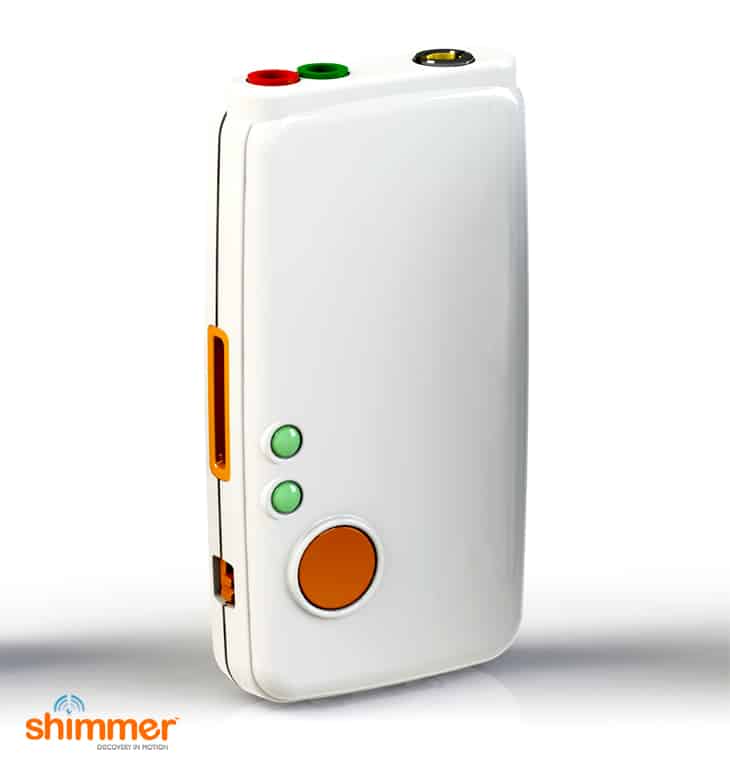 The new Shimmer3 GSR sensor provides connections and pre-amplifications for one channel of clincal grade GSR data acquisition or EDA (Electrodermal Resistance Measurement). Measurement can be achieved using standard non-proprietary medical stud/snap electrodes.
This device also features a highly flexible 3.5mm TRRS expansion connector, which will offer users the option to connect a brand new line of Shimmer sensing probes (coming soon). Initially Shimmer will offer an Optical Pulse (PPG) sensing probe that works with this device. This will be complemented by an executable application that will estimate sedentary Heart Rate (HR) in real time.
Motion, Galvanic Skin Response and Optical Pulse captured from one device:
Shimmer3 GSR/OP will arrive in a new slimmer, lower profile enclosure than its GSR predecessor which makes it well suited for wearable applications. The device will harness the power of the Shimmer3 platform by making use of its many exciting features like integrated 10DoF kinematics sensing, and allow users to maximize the latest developments in multi-parameter sensor fusion.
The Shimmer3 GSR/Optical Pulse expansion module provides users with a high-performing vehicle to capture multiple signals from one device and the comprehensive power control options associated with the device allow episodic optical measurement, which can allow for a longer run-time.
Ultimately the all new Shimmer3 GSR/Optical Pulse expansion module brings an effective way to measure activity, emotional engagement and psychological arousal in lab scenarios and in remote capture scenarios that are set outside of the lab. This device is also compatible with existing Shimmer charging and programming devices.
Users will be able to place pre-orders for Shimmer3 GSR/Optical Pulse in early January 2014.
For more information about the Shimmer3 GSR/Optical Pulse expansion module, feel free to contact us on [email protected]