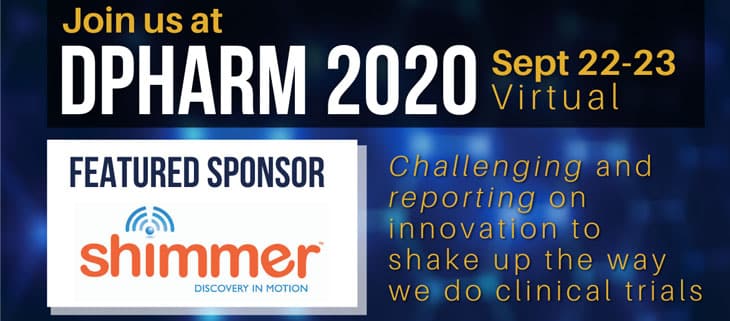 CAMBRIDGE, MA – Sept. 21, 2020 – Shimmer Research, a global leader in wearable technology for research applications, today announced that it will be playing a very active role in this year's DPHARM: Disruptive Innovations US virtual conference as both a sponsor and an attendee. Shimmer will be providing updates on both its Verisense™ wearable sensing platform for clinical trials, and OWEAR, the Open Wearables Initiative, which it co-founded in 2019 with Dr. Vincent van Hees and Nextbridge Health. The DPHARM virtual conference will held from Sept. 22-23.
"We are proud to continue our support of DPHARM and delighted to have this opportunity to connect virtually with medical researchers around the world and to share our latest Verisense and OWEAR advances," said Geoffrey Gill, president of Shimmer Americas. "While social distancing during the COVID-19 pandemic is keeping us apart, we are finding new ways of working together, and technologies like Verisense are helping to enable the adoption of telehealth measures at rates barely imagined a year ago."
The Verisense platform was built from the ground up to monitor clinical trial participants' activity and sleep levels remotely. It was developed to satisfy the needs of, and place minimum burden on, all the stakeholders – sponsors, clinical research organizations (CROs), trial sites, and participants.
Verisense provides sponsors with complete, continuous raw sensor data from clinical trial participants. By giving sponsors access to the raw data, Verisense allows them to drill down to resolve any anomalies and also to reanalyze their results whenever algorithms used to interpret specific motions are refined.
It takes less than five minutes for clinical trial site staff to set up each new participant on the Verisense platform and they receive alerts if the participant's sensor is not being worn correctly, the base station is unplugged, or the sensor's power is running low. As a result, Verisense reduces the amount of participant-researcher time required to run the clinical study.
The Verisense sensor was also developed to be a low-stress, no-hassle device for clinical trial participants. It does not require regular charging – its battery lasts for up to six months – and its data is uploaded automatically to a remote cloud platform without any patient involvement. It is also a lightweight, low profile, water-resistant device.
OWEAR is an industry collaboration, which is developing a database of open source software and datasets, together with validation papers, for wearable sensors and other connected health technologies at www.owear.org. By establishing benchmarked, open source algorithms, OWEAR hopes to enable clinical researchers to use the same algorithm across a multitude of wearables and projects and so gain access to much richer datasets. The organization's goal is to create high-quality, sensor-generated health measures that can help to streamline drug development and enable digital medicine.
Shimmer experts will be available to answer DPHARM attendees' questions about Verisense or OWEAR via the 'Meet the Sponsors' page on the conference platform.. The company has also developed a video showing Verisense in action, which can be accessed from the same page. Additional information about this wearable platform for clinical trials can be obtained from https://verisense.net.
Further information about the DPHARM Conference is available at https://theconferenceforum.org/conferences/disruptive-innovations-us/overview. Interested parties can register at https://reg.theconferenceforum.org/event/dpharm-2020/ and use the code SHIMMER10 to obtain a 10% discount.
About the Open Wearables Initiative (OWEAR)
OWEAR is an industry collaboration designed to promote the effective use of high-quality, sensor-generated measures of health in clinical research through the open sharing of algorithms and datasets. OWEAR serves as a community hub, indexing, distributing and benchmarking algorithms openly and transparently. It acts as a neutral broker, conducting formal, objective benchmarking processes and identifying high-performing algorithms in selected domains. Its vision is to provide the industry with a searchable database of benchmarked algorithms and source code that can be freely used by everyone to help streamline drug development and enable digital medicine. For more information, visit www.owear.org.
About Shimmer Research
Founded based on Intel technology in 2006, Shimmer Research is a well-established wearable technologies services and sensor manufacturing company based in Dublin, Ireland. In addition to standard products, Shimmer provides customized sensor development services, volume manufacturing, and complete wearable sensor solutions of any complexity. Shimmer's technology and services have been employed by thousands of researchers at more than 900 leading companies, universities, and research institutes in more than 75 countries. Shimmer's technology is incorporated in the products and services of more than 20 original equipment manufacturers. Shimmer has an ISO 13485:2016 certified medical devices quality management system. For more information, visit www.shimmersensing.com, https://www.linkedin.com/company/shimmer/ or follow @ShimmerSensing.

Shimmer Contact:
Geoffrey Gill, (617) 945-2628
President, Shimmer Americas
[email protected]

Media Contact:
Lisa Osborne, (206) 992-5245
Rana Healthcare Solutions
[email protected]