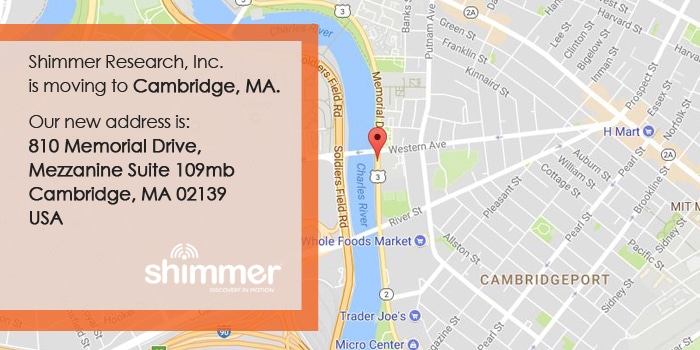 Boston MA, November 14th Shimmer Research, Inc. is delighted to announce that it will be moving to the historic location of Cambridge MA from Friday the 17th November 2017.
We bid farewell to our current office located in Milk Street, Boston, MA and look forward to opening our doors in the vibrant innovative community of Cambridge, MA. This move comes as a result of the increased activity in the wireless sensor Industry coupled with the fast paced growth of wearable technology globally. It also represents greater opportunities for synergies that can develop in and around the new facility. Shimmer Research Inc. will continue all its business activities from its new spacious location. Our new address is:
Shimmer Research, Inc.
810 Memorial Drive, Mezzanine Suite 109mb
Cambridge, MA 02139
USA
Our phone number has not changed, it is still 857-350-3790, and our contact email address is still [email protected].
If you have any questions about the new location or our services, please call us and we'll be happy to help. We look forward to welcoming all to our new location
The Shimmer Research Inc. Team