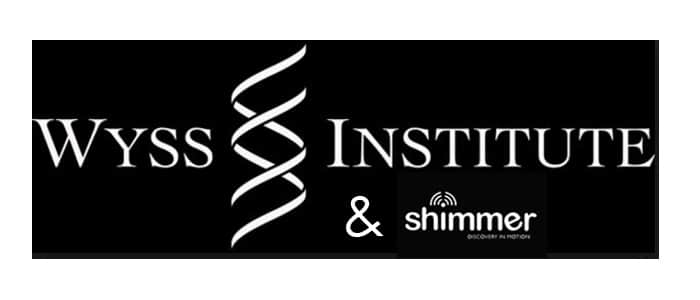 DUBLIN, 13 June 2016 – Shimmer Sensing, a leading provider of medical grade wearable wireless sensors, announced today a partnership with the Wyss Institute for Biologically Inspired Engineering at Harvard University in support of ongoing research focused on remote patient monitoring using wearable sensing technology. The research is led by Paolo Bonato, Ph.D., who is an Associate Faculty Member at the Wyss Institute and an Associate Professor in the Department of Physical Medicine and Rehabilitation at Harvard Medical School.
"Partnering with Shimmer Sensing will allow us to further develop our remote patient monitoring platform called MercuryLive," said Bonato.
MercuryLive is a platform designed to support clinicians' remote monitoring of patients – who, for example, could have Parkinson's disease or be stroke survivors, traumatic brain injury survivors, or children with cerebral palsy – via live streaming of wearable sensor data and an interactive video feed. Bonato's team at the Wyss Institute is developing the latest version of the MercuryLive platform, which enables the integration of a variety of wireless devices.
Shimmer's financial support of the research and its technical expertise in wireless medical sensors will accelerate the development of MercuryLive towards applications in remote patient monitoring. Among other clinical applications, the platform being developed will allow clinicians to remotely monitor patients with knee osteoarthritis using a knee sleeve with embedded wireless sensors and observe older adults in their home using wearable sensors and a mobile robot designed to navigate the environment and reach the subject in case of an emergency.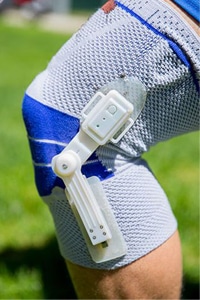 The Technology being developed by Wyss Associate faculty member, Paolo Bonato, pictured here, embedded wireless sensors. Credit: Wyss Institute at Harvard University
"The Wyss Institute is renowned for taking academic innovation to the next level, and partnering with physicians and the industry to bring new technologies to the bedside. We are very enthusiastic about the opportunity to support Prof. Bonato's research team and their work toward the development of the next generation of remote clinical monitoring systems," commented Patrick White, the CEO of Shimmer Sensing.
"Wearable patient monitoring systems represent the future of ambulatory medicine, and we are excited to help catalyze collaborations between engineers, clinicians and industrial partners to make this a reality," said Wyss Institute Founding Director Donald Ingber, M.D., Ph.D., who is also the Judah Folkman Professor of Vascular Biology at Boston Children's Hospital and Harvard Medical School and Professor of Bioengineering at the Harvard John A. Paulson School of Engineering and Applied Science.
PRESS CONTACTS
Shimmer Sensing
Michelle Murphy, [email protected], + 353 86 853 7806, Martina Donohue, [email protected], +353 1 6875760
Wyss Institute for Biologically Inspired Engineering at Harvard University
Kat J. McAlpine, [email protected], +1 617-432-8266
MULTIMEDIA CONTACT
Wyss Institute for Biologically Inspired Engineering at Harvard University
Seth Kroll, [email protected], +1 617-432-7758
Shimmer Sensing Shimmer is a leading technology company providing clinical-grade wearable wireless sensing technology. The company's award winning platform enables enterprises to reduce risk, cost, and time to market for sensor-based digital health solutions. Shimmer Sensing offers consultancy, design, customization, and volume manufacture for a full range of wearable sensor technology to provide high quality, scientifically reliable biophysical and movement data in real-time. This unlocks the potential for analysis and interpretation of sensed data specific to the person and creates an unprecedented level and access to personal digital health information, with the goal of improving health care outcomes. Shimmer's technology is trusted and utilized by the world's brightest startups, Fortune 500 companies, and leading Universities in over 65 countries worldwide. Deployments include an FDA approved biophysical application in the US, a telerehabilitation solution in Spain, and player tracking and performance management solution in the UK and Ireland. Established in 2008, with headquarters in Dublin, Ireland and with offices in Boston and Kuala Lumpar, Shimmer Sensing offers wearable wireless sensing technology that overcome the challenges of size, wearability, reliable communications and low power consumption. For more information visit: www.shimmersensing.com
The Wyss Institute for Biologically Inspired Engineering at Harvard University (http://wyss.harvard.edu) uses Nature's design principles to develop bioinspired materials and devices that will transform medicine and create a more sustainable world. Wyss researchers are developing innovative new engineering solutions for healthcare, energy, architecture, robotics, and manufacturing that are translated into commercial products and therapies through collaborations with clinical investigators, corporate alliances, and formation of new startups. The Wyss Institute creates transformative technological breakthroughs by engaging in high risk research, and crosses disciplinary and institutional barriers, working as an alliance that includes Harvard's Schools of Medicine, Engineering, Arts & Sciences and Design, and in partnership with Beth Israel Deaconess Medical Center, Brigham and Women's Hospital, Boston Children's Hospital, Dana-Farber Cancer Institute, Massachusetts General Hospital, the University of Massachusetts Medical School, Spaulding Rehabilitation Hospital, Boston University, Tufts University, Charité – Universitätsmedizin Berlin, University of Zurich and Massachusetts Institute of Technology.