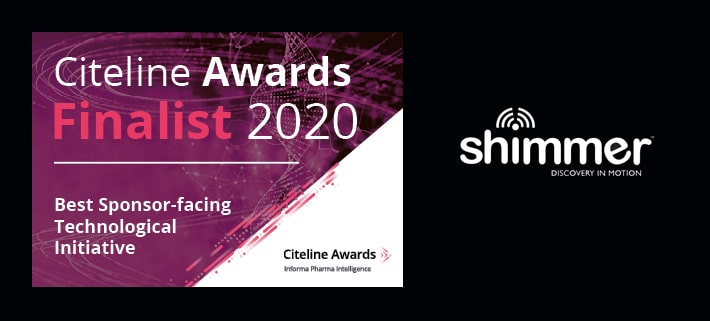 CAMBRIDGE, MA – June 23, 2020 – Shimmer Research, a global leader in wearable technology for research applications, today announced that it has been named a finalist for Informa Pharma Intelligence's 2020 Citeline Best Sponsor-facing Technology Initiative Award. Shimmer was recognized for its development of the Verisense™ continuous monitoring platform for clinical trials and its leadership role in co-founding the Open Wearables Initiative (OWEAR).
Shimmer's Verisense platform reliably captures accurate and complete biometric data, while placing minimum burden on clinical trial sponsors, sites and participants
"We are delighted that the Verisense platform has been selected as a finalist for this prestigious and highly competitive Citeline award," said Geoffrey Gill, president of Shimmer Americas. "This recognition is testament to the technical prowess and dedication of our Verisense development team. It also confirms our conviction that wearable sensors need to be developed from the ground up specifically for clinical research and that re-purposed consumer fitness trackers will not suffice."
The Citeline Awards (previously known as the CARE Awards) were created to recognize biopharmaceutical industry accomplishments. They celebrate R&D achievements ranging from successes in early- and late-stage research, through advances in technological tools, to innovations in trial design and execution.
Developing the Verisense Platform
Shimmer's Verisense platform and Inertial Measurement Unit (IMU) are the culmination of more than 10 years' experience developing wearable wireless sensors for the research and commercial markets.
The Verisense IMU is waterproof, impact resistant and comfortable and does not require regular charging – its battery lasts for up to six months – so participants can just put it on and forget about it. Verisense data is automatically encrypted and uploaded to a remote cloud platform without any participant involvement, making it truly a low-stress, no-hassle device.
An online Verisense dashboard enables clinical trial sites to monitor participants' activity and sleep levels remotely 24 hours a day, seven days a week. Alerts let them know if a participant has stopped wearing their device or if its battery level is low. These advances reduce the amount of participant-researcher time required to run the clinical study.
Vitally important for sponsors, the Verisense platform provides access to all the raw participant data and built-in peer-reviewed algorithms for activity and sleep. Verisense provides a quick system set up and multiple features to ensure data integrity. Its six-month battery life also helps to maximize patient compliance and improve data quality. Verisense integrates with a full-featured Clinical Trial Management Software platform, which displays the status of all the sites at once and can also drill down to each sensor in the study.
Co-founding OWEAR
Wearables have the potential to revolutionize clinical research by enabling an individual's health to be assessed continuously, objectively and in real time. However, the lack of accepted endpoints is proving to be a major impediment to the adoption of these digital measures in clinical trials.
Recognizing this challenge, Shimmer co-founded OWEAR (https://www.owear.org) in Sept. 2019 with Dr. Vincent van Hees, author of the GGIR software and algorithms, and Nextbridge Health to collate and evaluate open source software and datasets from wearable sensors and other connected health technologies. OWEAR is leveraging the work of thousands of researchers from academia, pharma, and other organizations to facilitate the development of those requisite endpoints.
OWEAR serves as a community hub, indexing, distributing and benchmarking algorithms openly and transparently. It acts as a neutral broker, conducting formal, objective benchmarking processes and identifying high-performing algorithms in selected domains. Its goal is to provide the industry with a searchable database of benchmarked algorithms and source code that can be freely used by everyone to help streamline drug development and enable digital medicine.
The Citeline Award 2020 winners will be announced during a dinner and awards ceremony on Sept. 17 at the Hyatt Regency Boston. Further information about this program is available at http://www.clinicalresearchexcellence.com.
About Shimmer Research
Founded based on Intel technology in 2006, Shimmer Research is a well-established wearable technologies services and sensor manufacturing company based in Dublin, Ireland. In addition to standard products, Shimmer provides customized sensor development services, volume manufacturing, and complete wearable sensor solutions of any complexity. Shimmer's technology and services have been employed by thousands of researchers at more than 900 leading companies, universities, and research institutes in more than 75 countries. Shimmer's technology is incorporated in the products and services of more than 20 original equipment manufacturers. Shimmer has an ISO 13485:2016 certified medical devices quality management system. For more information, visit www.shimmersensing.com, https://www.linkedin.com/company/shimmer/ or follow @ShimmerSensing.
Shimmer Contact:
Geoffrey Gill, (617) 945-2628
President, Shimmer Americas
[email protected]

Media Contact:
Lisa Osborne, (206) 992-5245
Rana Healthcare Solutions
[email protected]