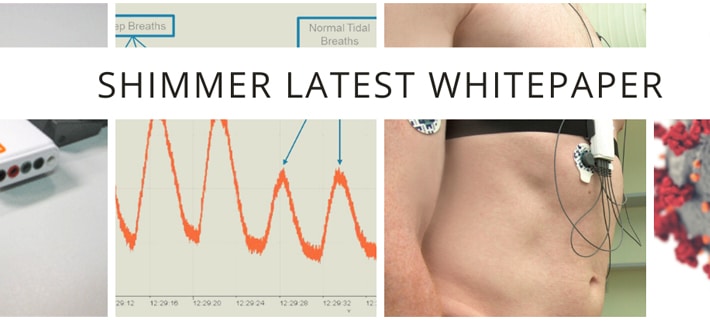 Boston MA, May 11th, on an examination of the findings from the latest medical news and journals over the past few weeks, it has taught us that patients experiencing respiration difficulty typically start to deteriorate quickly during the second week of illness. Understanding the natural course of the infection on the respiratory system and its potential complications as early as possible, is vital to better patient outcomes. Currently, some of the challenges in measuring outcomes in the current environment include; rapidly changing treatment protocols, unreliable Patient Reported Outcomes and the unknown long-term effects of the disease on respiratory system.
Shimmer has today released its first white paper in an effort to support the Real Time accurate measurement lung function critical to assessing the efficacy of any treatment and decision making.
Shimmers wearable Shimmer3 EBio sensor continuously measures thoracic bioimpedance, ECG, and acceleration allowing the capture of continuous lung function data, thoracic bioimpedance, RR depth, respiratory pattern along with activity and posture assessments.
Full White Paper available HERE
As with all our research at this time we expect other researchers to join this effort to accelerate progress and provide independent validation

Contact the Shimmer Team here for more information – [email protected]