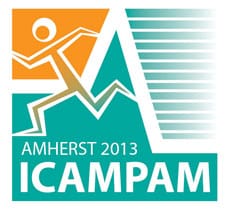 The 3rd International Conference on Ambulatory Monitoring of Physical Activity and Movement is taking place on June 17-19 in Amherst, MA, and Shimmer will be in attendance to showcase our broad range of wearable sensing capabilities.
At our booth, we will be available to demonstrate our full range of wireless sensing hardware and supporting applications, and answer any questions visitors may have.
This year's conference themes include Physical Activity, Sedentary Behaviour, and Sleep Measurement. The conference hosts speakers from some of the top universities and medical centres worldwide including Stanford University and Harvard Medical School.
Exhibitor Presentation
If you wish to hear more about Shimmer, we will be presenting a brief introduction and overview to Shimmer's capabilities and product offerings on Tuesday 18th June at 11am during the exhibitor and sponsor session. During this presentation, we will highlight recent developments and releases, as well as previewing some of the features of the upcoming Shimmer 3 platform.
See you there!
The conference will be held from June 17-19, 2013 at the University of Massachusetts Amherst, MA. To contact us in advance or to arrange a meeting please email [email protected] – we hope to see you there!