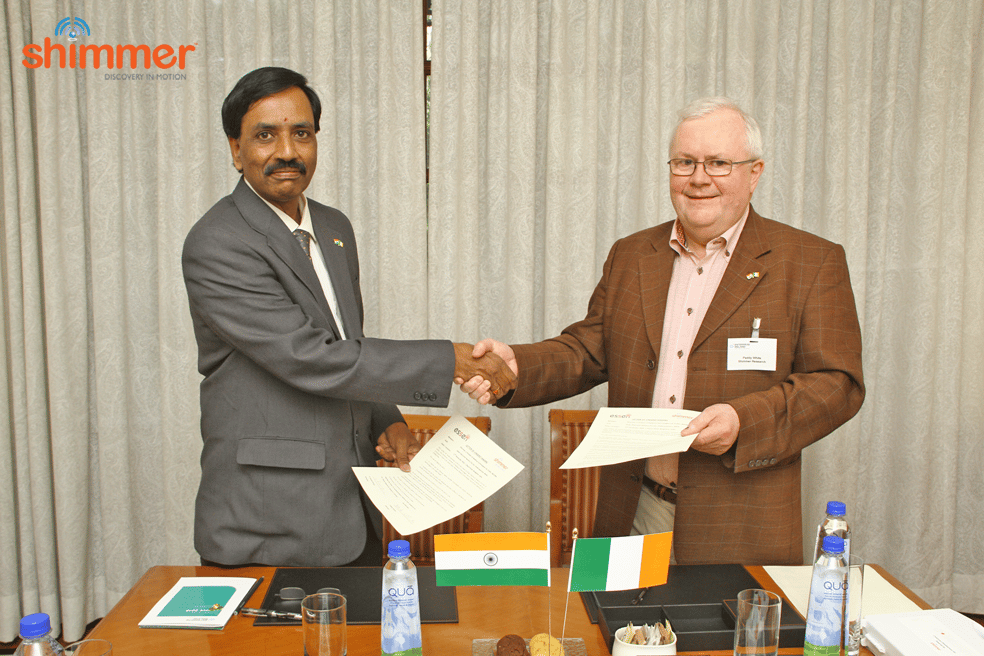 Shimmer Joint Venture To Deliver Novel Wearable ECG Remote Patient Monitoring Solution To Rural Areas.

DUBLIN, 22nd November 2016 – Shimmer, global leading provider of wearable wireless sensing systems is delighted to announce a joint venture with Indian based ESSEN Electronic Systems Pvt. Ltd., an Embedded Electronics Systems company to bring a novel remote patient monitoring product to the rural Indian Healthcare market. The announcement was made in Bangalore during the Enterprise Ireland Trade Mission to India led by Pat Breen T.D. Minister for Employment and Small Business.

The joint venture will form a new company called ESMedtek® which will produce a novel wearable Electro Cardiogram (ECG) monitor called HEARTWEAR® designed to allow the a clinician to monitor a patient's ECG from a remote location outside of a hospital setting, for example in their home, or a care home. This removes the cost and time associated with unnecessary travel to the clinic or hospital for the patient. Utilising Shimmers clinically validated body-worn sensors, ESSEN partnered with Shimmer to incorporate their award winning sensor platform in the HEARTWEAR® product. The deal is projected to be worth over €3.5M over 3 years to Shimmer, and is expected to create 15 jobs as a consequence.

Nearly 68% of India's population live in rural areas where only 2% of doctors are working, making physical access to clinics and medical expertise extremely difficult and inaccessible for most of the population. HEARTWEAR® aims to make the most vital body monitoring accessible for its patients reducing the cost on the Healthcare system and for the user.
Today in Bangalore both Mr.Subramanya K.Dixit and Mr. Paddy White signed the letter of intent in the presence of Minister Pat Breen, the Minister for Employment and Small Business in Ireland, along with Mr. Brian McElduff, the Irish Ambassador to India. At the signing, the two companies confirmed the Joint Venture will be formed in the coming days. Both Mr.Subramanya K.Dixit and Mr. White agreed that strategically the setting up of ESMedTek® is the first step in what's planned to be a long and successful relationship in the huge growth areas of wearables and remote monitoring market in India, with further products being released once HEARTWEAR® is established.

Congratulating Shimmer and ESSEN Electronic Systems Pvt. Ltd Minister Breen said "At the heart of our Action Plan for Jobs is building a new, sustainable, jobs-rich economy based on exports and innovation. I welcome this joint venture between two highly innovative companies which will improve patient outcomes and reduce healthcare costs in India while creating jobs in Ireland. This deal is an excellent example of how Irish companies can increase sales by working with Enterprise Ireland's network of overseas offices to find partners in key growth markets such as India".

Mr. Subramanya K Dixit, Vice President of Business Development at ESSEN Electronic Systems Pvt. Ltd, said 'he and his team are delighted to work together with Shimmer since Shimmer is a very professionally managed company, approaches any task in a systematic manner, straight forward and at the same time are very practical, they understand the need to work together for mutual growth and are looking forward to the success the cooperation with Shimmer will bring'.

Mr. Paddy White, CEO of Shimmer said 'ESSEN is a great partner to work with on this new venture in India; they are technologically savvy and have deep market knowledge. We look forward to fostering a truly deep relationship with them through ESMedTek, and introducing further Shimmer wearable technologies to the rapidly developing remote patient monitoring ecosystem in India, and bring the doctor into the home with our technologies'.

About ESSEN Electronic Systems Pvt. Ltd:
ESSEN is an Indian Defence Licensed Industry, which had been serving the nation for almost two decades with integrity and un-compromised quality. The company is headed by Mr.Satyanaraya Raju and Mr. Subramanya K Dixit looks after business development as Vice President. ESSEN's journey started during 1997 as a Small Enterprise by way of providing indigenous solutions to one of the Nation's pride industry "VIZAG STEEL", has now emerged as one of the most dependable solution provider for Indian Industry / Defence / Aerospace Sectors by way of providing services like Design & Development, Indigenization, proto-type manufacturing, bulk manufacturing of Electronics, Electro-Mechanical & EW Systems for various applications. ESSEN's success always comes with Smart approach i.e. development programme Specific to customers, Measurable in actions, Achievable in proposed tasks, Results are realistic and Timely action, which are reinforced with business philosophy.

About Shimmer:
Shimmer is a leading technology company providing clinical-grade wearable wireless sensing technology. The company's award winning platform enables enterprises to reduce risk, cost, and time to market for sensor-based digital health solutions. Shimmer offers consultancy, design, customization, and volume manufacture for a full range of wearable sensor technology to provide high quality, scientifically reliable biophysical and movement data in real-time. This unlocks the potential for analysis and interpretation of sensed data specific to the person and creates an unprecedented level and access to personal digital health information, with the goal of improving health care outcomes. Shimmer's technology is trusted and utilized by the world's brightest startups, Fortune 500 companies, and leading Universities in over 65 countries worldwide. Deployments include an FDA approved biophysical application in the US, a telerehabilitation solution in Spain, and player tracking and performance management solution in the UK and Ireland. Established in 2008, with headquarters in Dublin, Ireland and with offices in Boston and Kuala Lumpur, Shimmer Sensing offers wearable wireless sensing technology that overcome the challenges of size, wearability, reliable communications and low power consumption. For more information visit www.shimmersensing.com