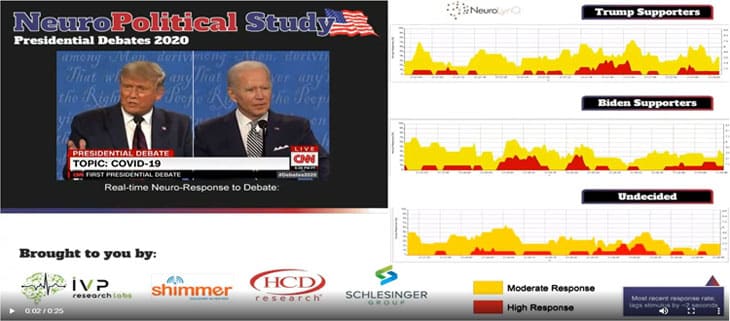 CAMBRIDGE, MA – Oct. 06, 2020 – Shimmer Research, a global leader in wearable technology for research applications was invited to be part of a market research consortium, hosted by The Schlesinger Group, Iselin, NJ to gauge voter neuro-reactions to the upcoming Presidential debates. As President Donald Trump and Democratic nominee Joe Biden faced off on stage for the first time on Tuesday the 29th September 2020, Shimmers NeuroLynQ Platform provide the biometric research sensors eliciting the viewers non-conscious response to the candidate's statements and arguments.
Other members of this consortium included HCD Research, IVP Research Labs, and The Schlesinger Group, all of whom have been involved in applied neuroscience for over 15 years. Technology company IVP Research Labs managed the data collection, Shimmer provided the biometric research equipment and HCD Research, Inc. interpreted and reported results.
Top level findings from the neuroscience analysis of the debate activities noted the strong reactivity across Trump, Biden, and undecided voter groups from the very beginning, and Neuro-reactivity was highest especially during the acrimonious portions of the debate.
The deep dive into the data continues, click here to receive updates from the analysis.
About Shimmer
Founded based on Intel technology in 2006, Shimmer is a well-established wearable technologies services and sensor manufacturing company based in Dublin, Ireland. In addition to standard products, Shimmer provides customized sensor development services, volume manufacturing, and complete wearable sensor solutions of any complexity. Shimmer's technology and services have been employed by thousands of researchers at more than 900 leading companies, universities, and research institutes in more than 75 countries. Shimmer's technology is incorporated in the products and services of more than 20 original equipment manufacturers. Shimmer has an ISO 13485:2016 certified medical devices quality management system. For more information, visit our website, connect with us on LinkedIn, or follow us on Twitter @ShimmerSensing.
Shimmer Contact
Geoff Gill, (617) 945-2628
President, Shimmer Americas
[email protected]

Media Contact
Lisa Osborne, (206) 992-5245
Rana Healthcare Solutions
[email protected]