Having recently made new and improved Shimmer hardware available to the Shimmer user community, Shimmer has now launched the latest version of its Multi Shimmer Sync software for Windows machines. The updated version will bring onboard a host of new features enabling users to manage, optimize and better synchronize their sensor applications.
Improved Synchronization Technique
The first generation of Multi Shimmer Sync for Windows successfully eliminated the effects of data latency, whilst the simultaneous HW reset functionality of the Shimmer Multi-Charger ensured that the on-board clock on each device had the same reference time.
MSS v2.0 goes much further in terms of synchronizing your data by compensating for both data latency and clock drift, as well as eliminating the need for a simultaneous HW reset.
The application update includes a real-time synchronization technique, which aligns the data from multiple shimmers to the PC clock, as the data arrives at the application.
By aligning each set of data to the PC clock, the effects of Shimmer clock drift and differing reset times are eliminated and the data from multiple Shimmers is synchronized, so that samples recorded from multiple devices at the same instance will now have a common timestamp.
Furthermore, the data is timestamped relative to your PC time, allowing for ease of synchronization with other devices.
As the image below illustrates, the average synchronization error does not vary over time because the clock drift effect has been eliminated.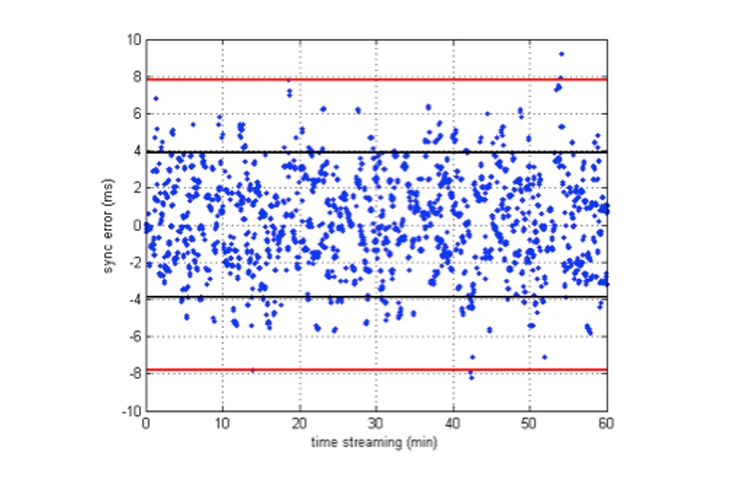 Signal filtering functionality
MSS v2.0 gives its users the option to choose from a range of filter types from Butterworth to Chebyshev, as well as different filter implementations (Highpass/Lowpass/Bandpass/Bandstop).
This level of flexibility not only allows MSS v2.0 users to process signals in real-time, but the application can also assist with eliminating sources of noise such as mains interference and motion artefact.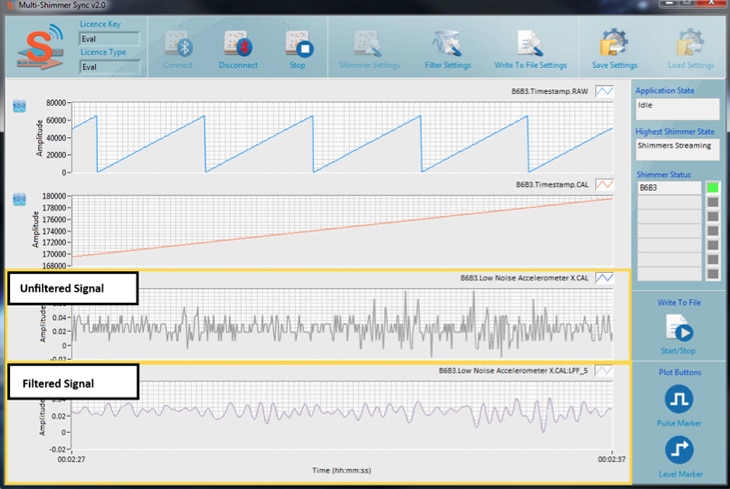 Enhanced UI for streamlined Data Capture
The launch of Multi Shimmer Sync for Windows v2.0 brings an elegant software application tailored to those conducting synchronized multi sensor capture. All of the tools required in this sort of capture scenario now appear right where the user needs them, and with only a few clicks a user can begin a synchronized data capture session.
Users can configure, view and save data from their Shimmer units more intuitively with the new application design, as well as being able to clearly visualize the data with the inclusion of up to four graphs for signal analysis.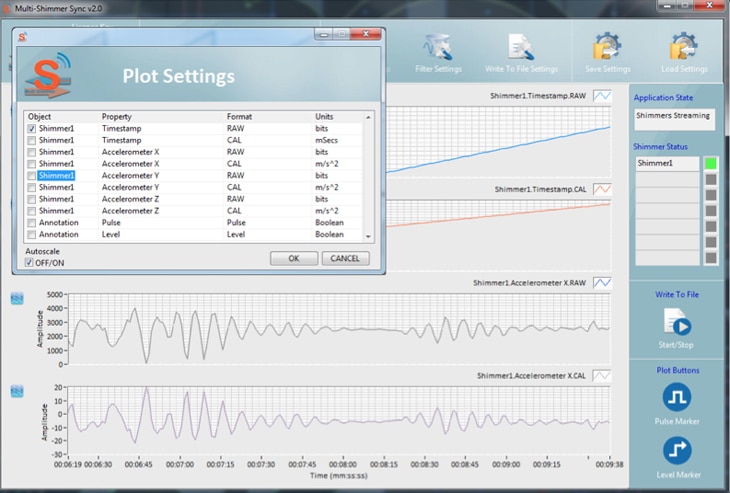 Should a user require a more rapid deployment, MSS v2.0 has integrated a number of features to speed up the configuration and data acquisition process, for example, users now have the option to select their Shimmer by its Bluetooth ID or avail of some flexible write to file settings.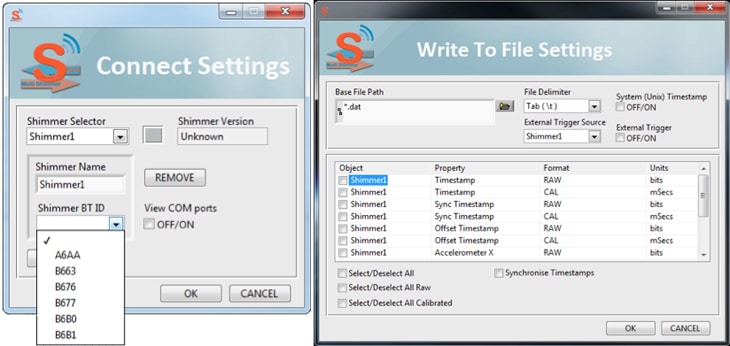 Boosted Performance and Increased Data Rates
Multi Shimmer Sync for Windows v2.0 has been optimized to collect more data from Shimmer sensors and at higher data rates due to an improved data acquisition algorithm implementation. Users can investigate the MSS v2.0 user manual for more information or download the evaluation version from the Downloads section of the Shimmer website.*Note: achievable data rates are system dependent. Reported improvement is based on relative performance in validation tests running both MSS v1.1.1 and MSS v2.0 on PCs with a range of specifications.
Support for new hardware
Shimmer's commitment to the advancement of body worn sensing is highlighted in MSS v2.0 as the new application includes support for the all new Shimmer3 platform, which boasts 10DoF as well as a choice of two accelerometers (Wide Range Accelerometer and Low Noise Accelerometer) as illustrated below.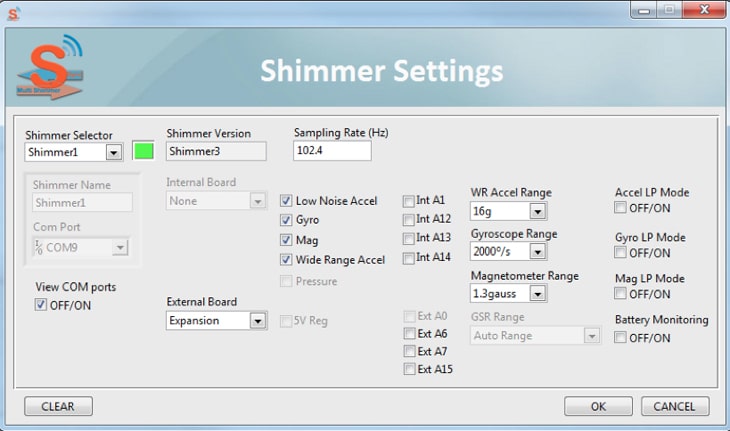 Purchase and Availability
Multi Shimmer Sync for Windows v2.0 is available from today for both new and current MSS users. The listed price for this software for first time purchasers will be at €239 (Individual), €569 (Group), €749 (Organization).
Current users of MSS software can upgrade their license and avail of Multi Shimmer Sync for Windows v2.0 for a fee of €30 (Individual), €50 (Group), €80 (Organization).
To purchase or upgrade to Multi Shimmer Sync for Windows v2.0, or learn more about the license agreement visit the application's page in the Shimmer store by clicking here.