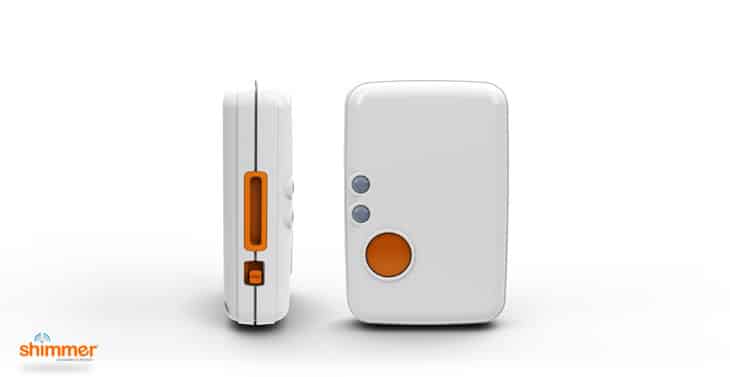 The all new Shimmer3, the most advanced body worn wearable wireless sensor platform is now available to pre-order. The platform includes a number of new and exciting features for highly advanced and intuitive data capture including an upgraded state of the art microprocessor, improved data quality and low profile end-user focused enclosure.

Throughout the development of Shimmer3, we focused on end user features with feedback from our extensive customer base central to the platforms design. From a discreet on/off power switch and concave programmable user button to prevent accidental use, to an intuitive and versatile LED display and quick snap clips matched to the body's natural curvature Shimmer3 is designed for Sensing Life.

Shimmer3 boasts unrivalled performance levels and its processing power and expandable nature will be unmatched by any commercially available body sensor platform. Whether you are collecting data in the field or in a clinical environment Shimmer3 offers performance, functionality and comfort, providing the optimal sensor experience.
Connectivity & Wearability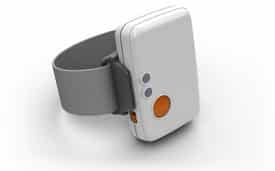 Shimmer3 readily connects via Bluetooth for real-time data transmission or data can be stored locally for post processing. The device has evolved to be smaller and thinner with a very low profile enclosure – it also provides comfortable quick snap straps that shape to the body's natural curvature enhancing wearability.
Control & Performance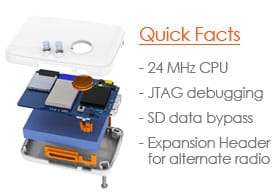 Shimmer3 has a 24MHz CPU and includes integrated Li-ion battery management features as well as a slide-switch for powering Shimmer3 on and off – the device also boasts very low power consumption.

Shimmer3 users are given full control of their sensor applications as Shimmer3 includes 5 coloured LEDs across 2 locations to indicate device status and operating mode. Users wishing to mark specific points in their data can do so using Shimmer3's concave programmable user button.
Data Quality
Shimmer3 offers 'best quality' data capture – for the first time the device offers users the ability to switch between a low noise and or a wide range accelerometer. The device also incorporates class leading 10 degrees of freedom (10DoF) inertial sensing with an integrated motion processor for on-board 3D orientation estimation.
Coming Soon
With the delivery of Shimmer3, there will also be a number of future releases and Expansion Boards coming from Shimmer between now and the end of this year. Shimmer3 will include Biophysical Expansion Boards including EXG (ECG, EMG, EEG) and GSR/HR: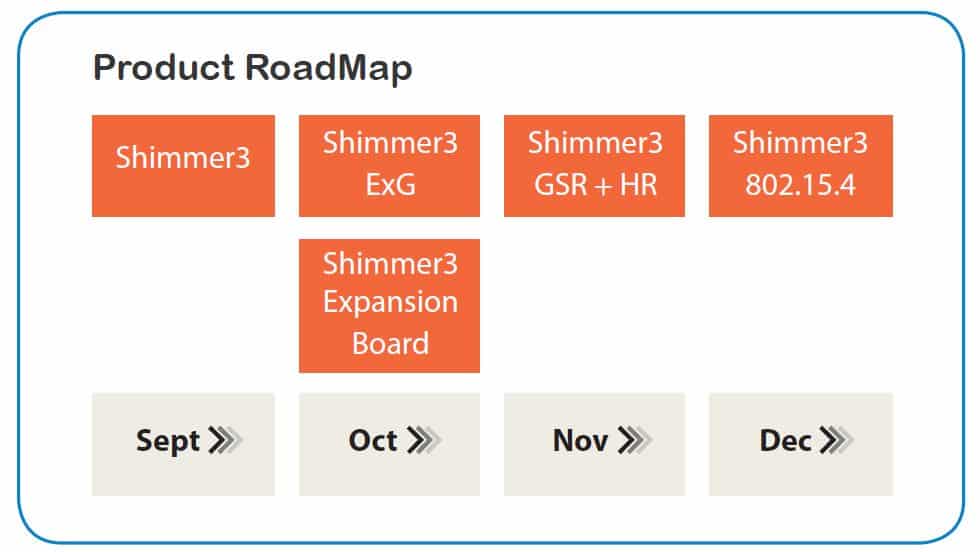 To see all the platform's key features and to place your Shimmer order visit Shimmer3's product page here.
For a more detailed look at Shimmer3's specifications click here for the Shimmer3 datasheet.
As always you can contact us via [email protected] if you have additional questions.
Pre-Order today, Shimmer3 will ship in late September 2013.