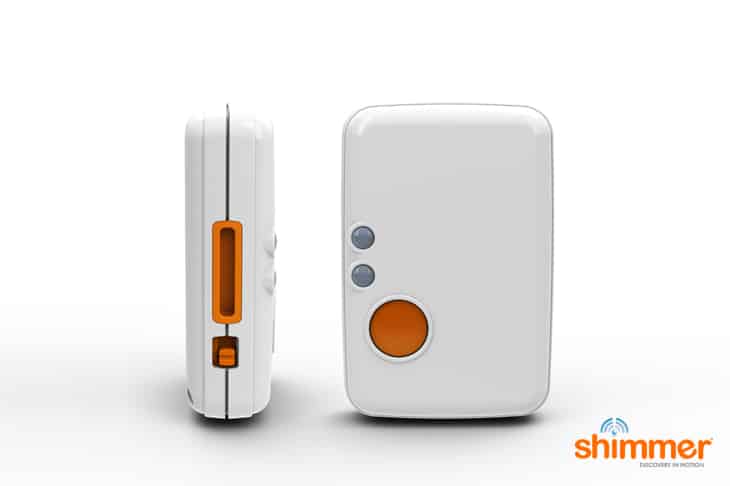 Shimmer3 Now Shipping
Last month the Shimmer team were very pleased to launch the newest version of our class-leading wireless sensor platform which is now available to purchase. Shimmer3 is available online at the Shimmer store and users will see a range of expansions and additions to the Shimmer3 suite of sensors in the coming months. To visit the Shimmer store and make your order for Shimmer3, click here.
Shimmer Tools and Resources Updated
Following on from release of Shimmer3, Shimmer is also very happy to deliver some high-performance enhancements across our range of firmware, enabling software, development tools and advanced feature software. In a continuing effort to ensure that Shimmer promotes simple and effective capture of body centered data, Shimmer applications will now include support for Shimmer3 and full backwards compatibility with legacy hardware. Each new feature is designed to promote productivity and to offer the user a fully functioning and elegant solution to manage their data in a way that is conducive to their desired application outcome.

Multi Shimmer Sync v2.0 (Windows)
With this update of Multi Shimmer Sync for Windows comes an intuitive software application tailored to those conducting synchronized multi sensor capture. All of the tools required in this sort of capture scenario now appear right where you need them and with only a few clicks a user can begin a synchronized data capture session.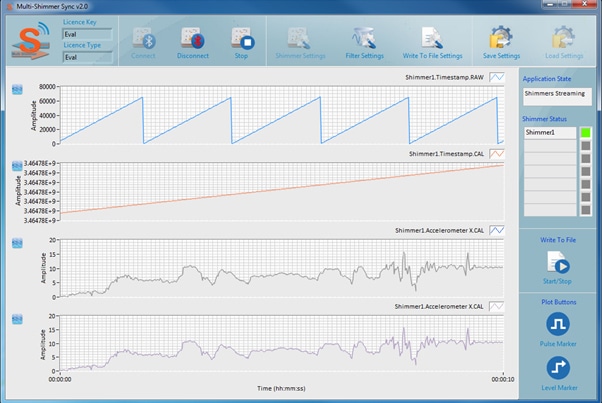 Not only does this application comprise of an elegant new user interface but it also boasts new and improved synchronization methods compared to MSS v1.The application is not longer reliant on simultaneous reset and remains accurate over long recordings due to clock drift correction.
In addition to stabilizing the data collection process, the new MSS v2.0 application provides users with a choice of signal filtering options. The application also sees improved data rate capabilities and support for the all new Shimmer3 platform.*
* Note: data rates are system dependent; reported improvement is based on validation tests running both versions on the same systems
Firmware
Our standard Shimmer open source firmware options BTStream and SDLog have both been updated to support the new class-leading Shimmer3 platform.
Development Tools
For users wishing to use Shimmer sensor data in a development environment in which they are familiar with, Shimmer offers MATLAB, LabVIEW, C# and Android support. These drivers are available from the Shimmer members section and now include support for Shimmer3 as well as all legacy hardware.
We are also excited to announce even more new functionality in the case of our Android Instrument Driver. Offering more choice when it comes to transmitting Shimmer data the driver now includes a TCP example, which guides users on how to stream data via TCP from an Android device to a PC.
In addition to the above feature, we have also added 'MultiShimmer Template' to the driver which will give every user a rapid path to be able to develop end user applications in Android that utilize multiple Shimmers: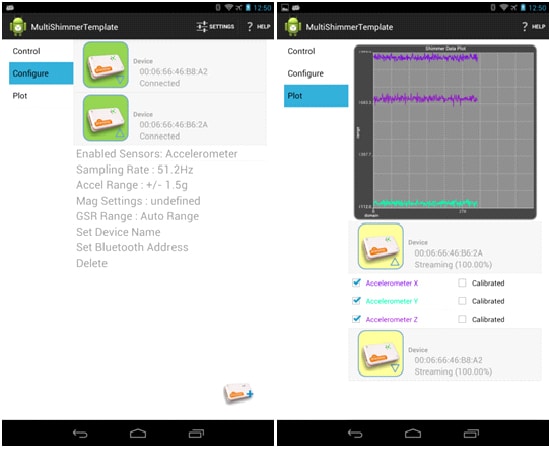 Enabling Software
Our enabling software applications exist to give our users quick and easy access to their sensor data. These applications assist with the set-up, execution and exportation of sensor data in a raw file format whether you are new to Shimmer sensors or work with a high level of domain expertise.
ShimmerLog, has now been updated to include support for Shimmer3 and full backward compatibility with legacy hardware. Another exciting update to the application tackles two long standing 'data capture challenges', ShimmerLog now boasts improved memory management. This will allow users to store more data on the device which in turn helps with longer logging sessions which can be synchronized and exported to the PC.
Shimmer Calibration Application
The Shimmer Calibration Application is now ready for Shimmer3 users as well as for use with legacy hardware from Shimmer. In addition to this, the application includes a revised method for magnetometer calibration, making these calibration efforts more accurate than in the past.
Coming Soon
In the coming months users can expect to see an enhanced Multi Shimmer Sync for Android application which will incorporate an improved synchronization method. Subsequent to this release will be a Multi Shimmer Sync for SD release which will allow users to avail of all of the features of MSS for Android and MSS for Windows, but utilizing the microSD card on the Shimmer device.
Stay tuned to Shimmer in the coming months as we will release new Biophysical expansions for Shimmer3. Both Shimmer3 GSR/Heart Rate and Shimmer3 ExG will be available before 2014.
Updates and improved Shimmer applications mentioned above are available from the Downloads section of www.shimmersensing.com
As always if you have any additional queries, feel free to contact us at [email protected]