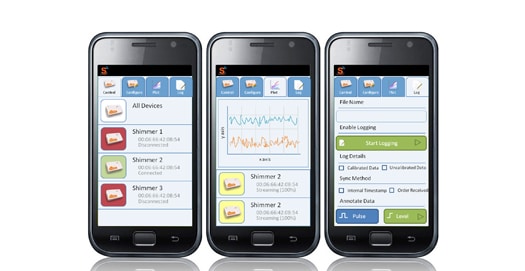 Last year saw the release of Multi Shimmer Sync for Windows from Shimmer. This was the first offering from Shimmer as part of its advanced feature software range designed to address specific application and user needs.
This year we are following that release with the launch of Multi Shimmer Sync for Android. Our newest software offering provides as much flexibility to synchronize Shimmer data as before but now gives Shimmer users the opportunity to do this using a mobile device that is running the Android operating system.
With the understanding that many of our users require data capture solutions which allow for greater mobility, Multi Shimmer Sync for Android is now available to download from the Shimmer download section of the website. The evaluation version of the application can be accessed from the Google Play store.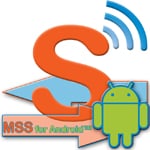 In scenarios where data is being captured from a single individual or as part of a larger trial, the Multi Shimmer Sync for Android solution offers greater freedom than its Windows counterpart. The mobility offered by Android devices allows for data capture beyond the range offered by the Bluetooth radio when connecting to fixed or immobile computing devices.
This allows for greater mobility during data capture and allows for simple remote monitoring out of the lab or clinical setting. With Multi Shimmer Sync for Android users can obtain real-world data in authentic living environments which benefit the person capturing the data whilst providing a true reflection of daily events to the data analyst.
The application will allow…
Synchronised data capture from up to 7 Shimmers to a single file

Synchronisation accuracy of up 0.98ms depending on sampling rate and number of Shimmers
Allows for synchronisation with external systems e.g. Camera based motion capture systems

Data stored in a tab delimited text format (files compatible with Microsoft Excel, Open Office)
MATLAB and most standard data manipulation programs

Includes a verified .m script for loading data directly into MATLAB

Controls to configure each Shimmer

Configure features such as sampling rate, enable/disable sensors, and set accelerometer range

Detection and notification of dropped packets

If packets are dropped due to the Shimmer going out of range or the UI will notify the user through the flashing of a red LED

Monitor data using real-time plot

When the application is streaming data the real-time plot can be used to view the data from one or more signals

Save and load application settings

This allows the user to save the settings for their particular experimental set-up and quickly reload the settings into the application when they resume their data capture session

Annotate Data with pulse marker and level marker
Synchronise with an external system (e.g. Camera based motion capture systems) using trigger input (Requires Shimmer expansion board) or system timestamp
Users can capture sensor data and send it on the go from a mobile device, this allows for the development of end user applications in a mobile context in a way that is simple and intuitive to the user.
Driven by feedback from existing users, researchers and companies alike, advanced feature software offerings aim to improve the quality and ease of data collection for research and ongoing application development.
Advanced feature software applications from Shimmer are available to individuals, groups, and organisations via our online e-store.
Visit the Multi Shimmer Sync for Android product page to read more, download an evaluation copy of the software, and watch a video demonstration.