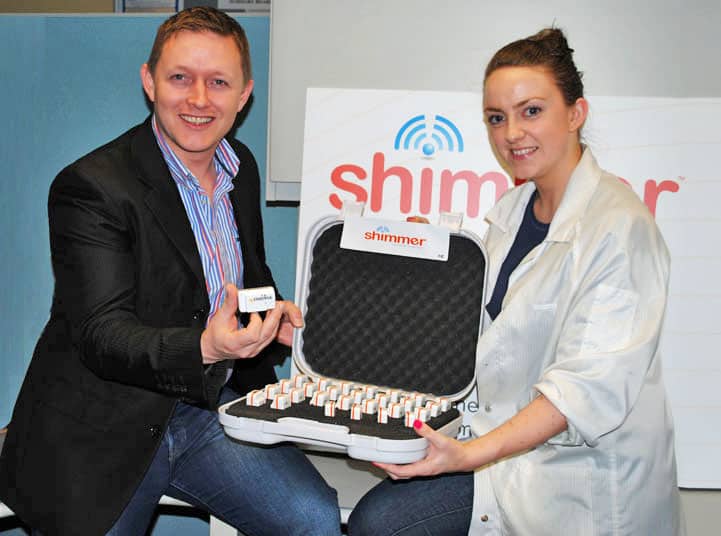 Paul Doherty, Vice president of Sales for Shimmer with Joyce Power, Quality Engineer, Realtime Technologies, display the first Shipment of Emerge Diagnostic's Sensors
DUBLIN, 24th March 2014 — Shimmer, global leading provider of wearable sensor technology, today announced it has secured a long term supply contract with US client Emerge Diagnostics. Worth $10 million over the next three years, Shimmer will provide the core platform on which Emerge Diagnostics has developed a class II medical device designed to perform an Electrodiagnostic Functional Assessment (EFA). This compact, portable and wireless device provides a new, cost effective standard in the diagnosis and treatment of Soft Tissue Injuries particularly in relation to Occupational Injuries. The EFA can distinguish an acute injury from a chronic injury and can assist with better treatment of soft tissue injuries to identify when the injury originally occurred. Emerge Diagnostics has received FDA 510K approval with the support of the Shimmer team and shipping commenced this month to the value of $140,000.
According to US Bureau of Labour Statistics, Soft Tissue Injuries (STI's) account for an estimated $200 billion annually in lost work hours with workers compensation making up the largest component of this cost. This new solution provides a cost effective, portable, wireless and accurate system to diagnose the severity of conditions to improve claim management and clinical outcomes. With lower costs and improved functionality and mobility, Shimmer has improved Emerge Diagnostics offering to allow them to scale quickly and efficiently.
EFA testing consists of a comprehensive body monitoring system including no less than 28 wearable sensors harvesting a whole range of movement and bio-physical data related to the person. This includes sensors for EMG, Strain/Force Gauges and motion capture sensors (accelerometers). Using lightweight wearable sensors, this new system moves diagnostics from the wired to wireless and offers improved functionality and mobility.
Shimmer was chosen as a partner due to its leadership in innovation in this fast growing sector. Robert Thompson, CEO of Emerge Diagnostics commented, "Shimmer and its technology has been central to our new FDA-cleared soft tissue diagnostic instrument. Emerge plans to ship over 2000 units in the next three years, creating a completely new product and service category."

Shimmer's flexible and customizable platform allows for the rapid development of a solution that can be tailored at every step of the process without lengthy and costly hardware and application development. As an open source platform, it ensures that its products are highly configurable and flexible, allowing them to be easily incorporated in existing technologies and rapidly tailored to the requirements of each individual-use case and application. From the manner in which data is captured, transmitted, and stored to the way in which it is interpreted and displayed, Shimmer's customisability spans a comprehensive range of customer-specific needs, catering to the development needs of research-oriented applications as well as the wireless-sensing needs of original equipment manufacturers (OEMs).
Shimmer CEO, Paddy White comments, "Shimmer has been working closely with Emerge Diagnostics for a number of years to develop their Shimmer-based solution for muscle injury profiling. We've got to know the Emerge team really well primarily through our Boston facility, and our relationship has resulted in their product achieving FDA approval. With pent up demand already in the market, we expect strong growth over the next 3 years, and we are looking forward to the upswing this will have on Shimmer's output.'
Paul Doherty, Shimmer VP of Sales added, "We are delighted to be the primary partner of such an innovative company like Emerge Diagnostics They continue to do amazing work in the very interesting space of Soft Tissue Injuries. This relationship is the perfect example of how Shimmer engages in a symbiosis type relationship with companies to bring amazing solutions to market. In this case, not only did our wireless sensing platform hugely improve functionality and mobility but also reduced their costs. Our light affordable sensors are more cost effective than their previous solution and our open source, flexible, modular platform also helped Emerge to significantly save on development costs as well as reduce time to market."
This announcement follows the development of Shimmer3, the industry's leading wireless body sensor platform for personal health which received the 2013 Frost & Sullivan Product Leadership Award for its highly flexible body worn wireless sensing platform.
As industry leaders, Shimmer are at the forefront of wearables, a sector reported to be growing much faster than the typical ten year computing cycle that was evident in smartphones and subsequently tablets. Shimmer's product leadership is evident, its decision to incorporate the latest generation processor and combined with best data quality for motion sensing, the Shimmer3 offers capabilities unmatched by any commercially available platform designed for body-worn sensing. The platform acts as a primary board into which various sensor cards can be incorporated, facilitating comprehensive wireless sensing applications that efficiently address biophysical, motion, and environmental-sensing needs.
About Shimmer
Shimmer is a leading technology company providing clinical grade wearable wireless sensing technology. Our award winning platform enables enterprises to reduce risk, cost, and time to market for sensor based digital health solutions. Shimmer offers consultancy, design, customisation, and volume manufacture for a full range of wearable sensor technology to provide high quality, scientifically reliable biophysical and movement data in realtime. This unlocks the potential for analysis and interpretation of sensed data specific to the person and creates an unprecedented level and access to personal digital health information, with the goal of improving health care outcomes.
Our technology is trusted and utilised by the world's brightest start-ups, Fortune 500 companies, and leading Universities in over 65 countries worldwide. Deployments include an FDA approved biophysical application in the US, tele-rehab solution in Spain, and player tracking and performance management solution in the UK and Ireland.
Established in 2008, with headquarters in Dublin, Ireland and a world class R&D centre in Boston, Shimmer offers wearable wireless sensing technology that overcome the challenges of size, wearability, reliable communications and low power consumption.
About Emerge Diagnostics
Emerge Diagnostics is a California-based company created in order to commercialise the Electrodiagnostic Functional Assessment (EFA). Their focus is to provide better patient outcomes while saving money via early resolution and enhanced treatment options for soft tissue injuries. They are experienced in the field of electrodiagnostic medicine as it applies to injuries in the workplace and leaders in the ongoing development of innovative technologies.