At Shimmer we recently concluded our annual customer survey which we release to our users in an effort to guide the future direction of the Shimmer platform and Shimmer products and services.
This year saw the largest number of responses since we first conducted our customer survey (2010), receiving a wide range of suggestions and feedback from over 26 different countries.
For some more information on how and what the platform is being used internationally, please see some the survey findings below: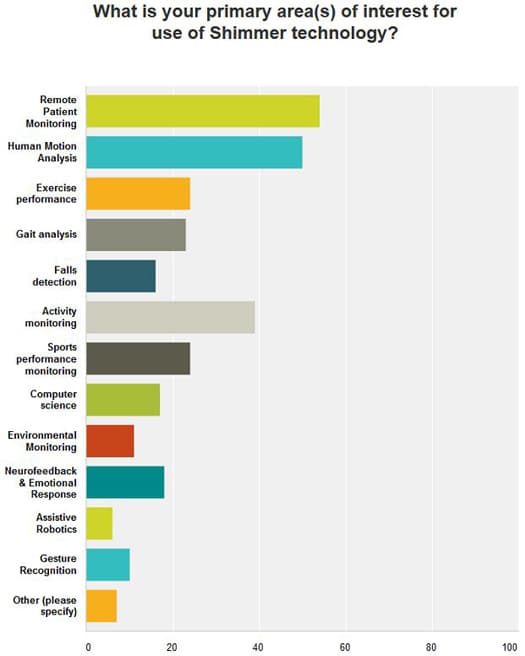 *Most popular Shimmer application areas (percentage of respondents)*
The above graph shows us the top 3 performing application areas were:

Remote Patient Monitoring at 63%
Human Motion Analysis at 58%
Activity Monitoring at 45%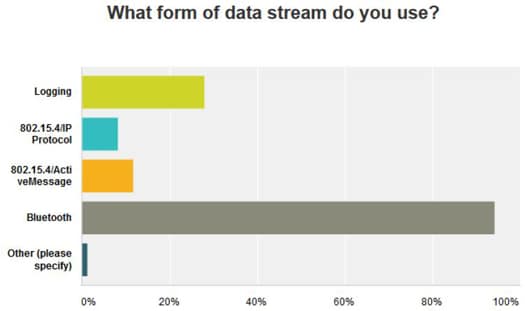 *Data streaming or logging preferences with Shimmer*
Over 90% make use of the BT radio when streaming Shimmer data to a host device
Action will be getting underway internally over the coming months to deliver new products and services for Shimmer users. In addition to this we will be enhancing the feature sets of our applications to reflect the excellent feedback we have received.
Thank you once again to every one of the participants and should you have any future suggestions or should you like to discuss Shimmer with us we would be happy to hear from you – contact us on [email protected] as always!
Google Nexus 7 winner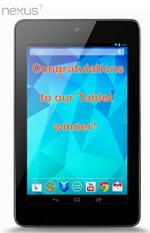 This year we offered those who completed our Shimmer User Survey a chance to win a Google Nexus 7 tablet. The winner would also receive the tablet with our latest Multi Shimmer Sync for Android application pre-loaded.
We would like to congratulate the winner of the prize this year Periklis Vlachakis of S.M.A.R.T. Physio, who is a Shimmer user based in Greece.
Periklis and his co-founder Athanasios Trampas noted that their clinic makes extensive use of the Shimmer products on assessing musculoskeletal disorders, including low back pain, patellofemoral pain syndrome and shoulder impingement by synchronising EMG units and a 3d video motion analysis system.